Despite sharply lower crypto prices this year, crypto hedge funds appear to remain optimistic on the space, with existing firms expanding their operations and new ones being opened.
Founded last year by a former investment manager at Goldman Sachs, BlockTower Capital is one fund that has expanded this year, hiring additional staff and opening a second office in New York in addition to its Connecticut headquarters, a source told Bloomberg.
BlockTower's new hires reportedly comes from diverse backgrounds, including venture capital, startup incubators, and investment banks such as Goldman Sachs, Nomura, and Bank of America. Among the fund's investors is the famous American venture capital firm Andreessen Horowitz.
Further, the article went on to cite data from the Eurekahedge Crypto-Currency Hedge Fund Index, which confirms that crypto hedge funds on average has seen a decline in returns of 52.9% this year, compared with the 54% decline in bitcoin. That comes despite the fact that many hedge funds are holding a variety of smaller tokens and altcoins, which have seen even heavier selling this year than bitcoin.
The relative outperformance by hedge funds against the broader market this year suggests that the hedging and active trading strategies employed by some of these firms have been working.
The Eurekahedge Index is an equally weighted index of 16 hedge funds with positions in bitcoin and other cryptocurrencies. In 2017, the index recorded a 1,709% gain, with an annualized return since inception of 152%.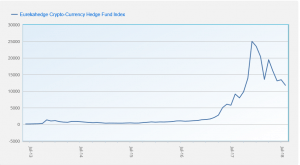 Through July 31, there were 96 new crypto hedge funds and venture capital funds, an annual pace of 165, as reported by Cryptonews.com. This would surpass the record 156 crypto funds launched in 2017. More than half of all crypto funds currently in existence have launched in just the last 18 months, according to Crypto Fund Research, a research company. However, the research goes on to show that while crypto funds are the fastest growing hedge fund strategy by number, overall assets are still quite meager, compared to traditional funds.