TABOO is a community-led project with absolute rug proof security, allowing all participants to participate in a completely secure ecosystem with a fully locked liquidity pool.
They give a portion of each purchase to their faithful holders as a gift. With each transaction, your TABOO tokens will rise!
TABOO holders passively earn tokens by static incentives with a set 5% tax that is allocated to their holders' 'TABOO is a deflationary MEME token with a 7% transaction tax. 2 percent is indefinitely burnt from the stock, implying that the quantity of token in nature is still decreasing, making this token more difficult to obtain, raising the token's price. 5 percent is allocated to all of our holders, implying that the number of tokens in your wallet is constantly increasing!
Team Tokens are secured by a DX auction, and liquidity is secured, providing our investors with complete security.
People behind TABOO 
The TABOO team is an entertainment and publishing blockchain platform initiative that uses NFTs to build an inspired and, most importantly, satisfied long term holder!
They are a deflationary meme token that brings you unique never-before-seen uncensored NFT material from world renowned beauties!
TABOO's staff understands that the fundamentals of a good coin must be MARKETING! They need a crowd whose values are shared, and there is no question that as a group, they will push this coin well beyond the $100 million market cap in no time.
Roadmap 
Q2 2021:
Launch Website
Presale
Airdrops
Whitepaper
CoinMarketCap listing
Q3 2021:
Top Tier CEX Listings
Deploy exclusive NFT content to premium TABOO holders
Banner ad campaigns
Glamour model/ pornstar marketing
Begin talks with leading online adult only websites
Tokenomics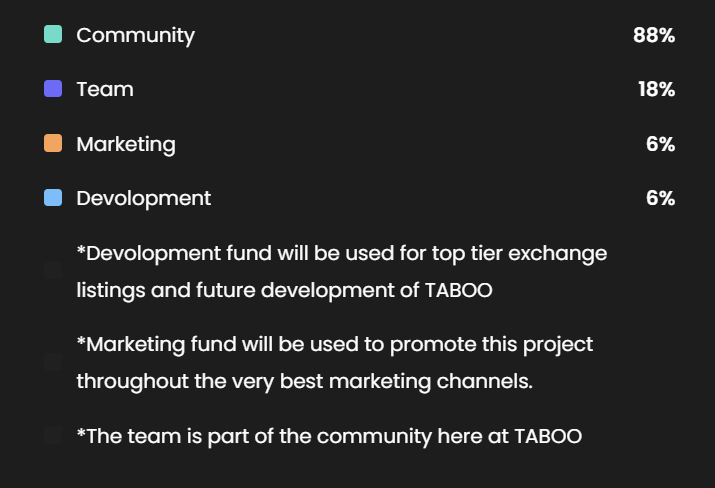 How to buy TABOO
To buy TABOO, you must first own some BNB and transfer it to your wallet. TABOO can then be obtained via PancakeSwap.
SEND BNB TO WALLET
1. Login to your binance.com account. select wallet and click "overview".
2. In your wallet overview, click "withdraw".
3. Once you're in the withdrawal menu, select bnb, enter the withdrawal address (obtained from metamask), select binance smart chain as the transfer network, and enter the amount you want to withdraw.
4. After selecting binance smart chain as the transfer network, a pop-up screen will appear. select "I understand".
5. The next steps are the same as with any other withdrawal. A confirmation screen will appear to inform you about the conversion rate, fees, and to allow you to review the transaction details once again.
6. Once confirmed, you'll be asked to enter your verification code to approve the withdrawal.
Your transaction will be processed shortly. The funds should appear in your metamask wallet balance (under smart chain) within a few minutes after you receive the withdrawal confirmation email.
BUY TABOO ON PANCAKESWAP
1. Access to www.taboo.community
2. Buy Taboo on pancakeswap
Join TABOO on Telegram